We urge you to fill out the accompanying Registration Form as soon as possible. Please send one copy of the form to the HFCC at
registration(at)hfcc(dot)org, and another copy to the Marquis Reforma Hotel by fax or e-mail, along with your credit card data to guarantee your hotel room. (If you do not have a credit card, please contact the NASB Conference Committee to make arrangements to guarantee your hotel room.)
Visa Assistance Citizens of many countries do not need visas to enter Mexico. U.S. citizens only require a passport or an original birth certificate and a photo ID. A passport (but no visa) is required for citizens of the following countries: Andorra, Argentina, Australia, Austria, Belgium, Brazil, Canada, Czech Republic, Chile, Costa Rica, Denmark, Finland, France, Germany, Great Britain, Greece, Hungary, Ireland, Iceland, Israel, Italy, Japan, Liechtenstein, Luxembourg, Monaco, Norway, New Zealand, Netherlands, Poland, Portugal, Puerto Rico, San Marino, Singapore, Slovakia, South Korea, South Africa, Spain, Sweden, Switzerland, Uruguay, Vatican City and Venezuela

Citizens of other countries require a passport and visa for entry to Mexico. Visas can be obtained at the Mexican embassy or a Mexican consulate in your country. Before you go to the Mexican embassy or consulate to apply for a visa, please contact the Conference Committee, and we will send you a personal invitation for visa purposes. We will also have the Mexican National Migration Institute expedite a special entry permit for you, if you are a citizen of certai countries that require this permit in addition to a visa. If your country has no Mexican embassy, please contact the Conference Committee for special instructions on how to obtain a visa. Although the procedure is generally very quick, please allow at least one month to obtain a Mexican visa.

Requests for the individual letters of invitation, visa matters, or any other questions should be addressed to Jeff White, Chairman of the A05 Conference Committee, at: radiomiami9(at)cs(dot)com, or by fax at +1-305-559-8186, or by telephone at +1-786-942-4205.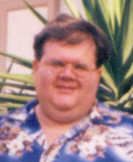 Jeff White is chairman of the Mexico City Conference Committee. Jeff is general manager of Radio Miami International (WRMI) and past president of the National Association of Shortwave Broadcasters (NASB). He is currently chairman of the USA DRM Group. Jeff has attended four HFCC/ASBU conferences on behalf of the NASB since 2001, and he travels regularly to Mexico.
Dennis Dempsey is co-chairman of the Mexico City Conference Committee. He is the Director of Engineering at EWTN Worldwide Catholic Radio, which operates shortwave station WEWN in Birmingham, Alabama, USA. Dennis has attended the HFCC/ASBU conferences in Montreal, Tromso and Helsinki. He will be assisting with various aspects of the Mexico City conference, including technical details.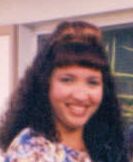 Thais White is the wife of Jeff White and is administrative assistant at Radio Miami International. She is originally from Venezuela and has traveled extensively in Mexico. She has many years of experience working at travel agencies and in the hotel industry. Thais has attended three HFCC/ASBU conferences since 2001. She will work at the conference registration desk in Mexico City, and will be available to help delegates with all of their travel plans, tours, etc.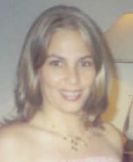 Johanna Silva is Thais White's sister. She lives in Venezuela, and has worked in various aspects of the tourism/hospitality industry, including a major international hotel and a convention center in Valencia, the second-largest city in Venezuela. Johanna is bilingual and will be working at the registration desk in Mexico City along with Thais.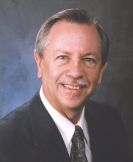 Doug Garlinger is President of the NASB. Until recently, he was director of engineering at LeSEA Broadcasting, which operates shortwave stations WHRI in Indiana, WHRA in Maine and KWHR in Hawaii. Doug is now working with the Telemundo Spanish-language television network in Arizona and will be practicing his Spanish at the Mexico City HFCC/ASBU Conference.
Dr. Julian Santiago Diez de Bonilla (left) and Hector Garcia Bojorge (right) are in charge of the shortwave service of Radio Mil, which is one of Mexico's major commercial radio stations and networks.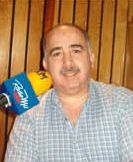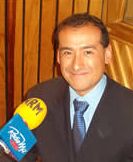 They produce a program especially for shortwave listeners called "Encuentro DX." Julian is also a former producer of Spanish and English programs for the government-owned shortwave station Radio Mexico International. Both Hector and Julian are very active in the Mexican shortwave listening club scene.
Dr. Gustavo Alvite is the program director of Nucleo Radio Mil Communications, which operates Radio Mil and several other important commercial AM and FM stations in Mexico City. His assistant is Claudia Rosendo. They will be hosting a tour and reception for HFCC/ASBU delegates at the new state-of-the-art broadcast facilities of Nucleo Radio Mil in the Mexico City suburb of Santa Fe. These facilities were recently inaugurated by Mexican President Vicente Fox.
Dr. Lidia Camacho is the director of Radio Educacion, which means "Radio Education." This station, which operates on AM and shortwave, is owned by the National Cultural Council, which is in turn part of the Ministry of Education. Radio Educacion will also host a tour and reception for HFCC/ASBU delegates during the conference at their headquarters in the Colonia Del Valle.
Today, metropolitan Mexico City is the largest city in the world, with all necessary facilities for an international conference of this type. It has direct air links to various cities in North, Central and South America, Europe and Asia. At about 11 pesos to the U.S. dollar, it represents a good value for international travellers. Mexico City offers visitors a wealth of culture, history, pre-Columbian ruins and some of the best museums and theatres in the world. Mexico welcomes tourists from all over the world, and visa and immigration procedures are quite simple.

You will find that airfares to Mexico are quite reasonable, and we have a special arrangement with American Airlines to give you even further discounts (see below). For those who have travelled a great distance to get to Mexico and would like to spend a few extra days seeing a bit of the country's history, culture and a world-renowned beach resort at a bargain price, we have added an optional tour to Acapulco from Saturday to Monday following the conference.
Airline Flights
There are direct flights to Mexico City from numerous cities in North, Central and South America, Europe and Asia, so that most conference participants will be able to get a flight with no more than one connection. Aeroméxico, American Airlines, America West, Continental, Delta, Mexicana, Northwest, United Airlines and U.S. Airways fly from the United States to Mexico City, while Air Canada flies from Canada. Aeroméxico, Aviateca, Copa, Cubana, Lacsa, Mexicana and Taca fly to Mexico from Central America and the Caribbean. Aeroméxico, Avianca, Lan Chile, Lloyd Aéreo Boliviano, Mexicana and Varig fly from South America. Airlines flying from Europe to Mexico City include Aeroméxico, Air France, Alitalia, British Airways, Czech Airlines, Iberia, KLM and Lufthansa. Flights are also available to Mexico City from Asia via Japan Airlines.

When searching for the best airfares, you may find that you can save money by breaking your fight into two round-trip segments. For example, if you are flying from Cairo to Mexico City, you might be able to get an overall lower airfare by buying round-trip tickets from Cairo to somewhere in Europe and from Europe to Mexico City rather than buying a round-trip fare from Cairo to Mexico City. This can be helpful when checking fares on online sites such as Travelocity.com and Expedia.com.

Also, American Airlines is offering HFCC/ASBU Conference participants a 10% discount off the lowest available economy fare when using American and/or any of the other "oneworld alliance" airlines (Aer Lingus, British Airways, Cathay Pacific Airways, Finnair, Iberia, LanChile and Qantas Airways). There are some fares that are excluded from this offer, but generally speaking if you find the lowest available economy airfare via any of these airlines or a combination of these airlines, they will give you a further 10% discount if you reserve and purchase your flight prior to January 3, 2005. (After that date, the discount is 5%.) In order to get this special conference rate, you have to make your reservations through an American Airlines office and you must give them the authorization number A4925AL. Tell them it is a group and meeting travel fare. You can find a list of American Airlines worldwide reservations numbers here.
If you are in the United States, you should contact the American Airlines Meeting Services desk at 1-800-433-1790 to make reservations. You are still eligible to earn frequent flyer miles at this special group fare. The fare is available for flights between Feb. 3 and Feb. 17. If you have any problems getting this discount, please contact Jeff White at the Conference Committee.
Electrical Current
120 volts, 60 Hertz -- just like in the U.S. The electrical plugs are also just like in the U.S., with two flat blades.
Cellular Telephone Service
Mexico now has GSM service -- 1900 MHz, as in the U.S. If you have a GSM phone with the 1900 MHz band, it should work fine in most major cities in Mexico.
Currency
The Mexican peso. There are currently about 11.5 pesos to one U.S. dollar. At the Mexico City airport, there are many currency exchange booths, plus automatic teller machines where you can get pesos from your credit or debit card.
Climate and Weather
Because of its high altitude, Mexico City has a very spring-like climate year-round. It will not be too hot in February, and you may need a jacket at night. But if you go to other parts of the country, such as our trip to Acapulco, it can still be very hot in February, and you will want very light clothing. You may want to arrive a day or two early to Mexico City to accustom yourself to the high altitude.
Food
Mexican food is generally quite spicy, but you can often request that they prepare it "sin picante" (not spicy). There are many varieties of tacos, tortillas, burritos, gorditas, enchiladas, etc. Many foods are eaten with corn-meal tacos or flour tortillas. Meat, chicken, fish and vegetarian foods can be found everywhere. The main dishes are often served with rice or refried beans. One local specialty is called "chicken mole" (pronounced MO-lay) which is covered with a black chocolate-based hot sauce invented by nuns in the city of Puebla. But don't worry -- international cuisine is available everywhere, including all of your favorite fast-food outlets. Mexico is famous for its tequila. The popular "margarita" consists of tequila with lime juice. There are many brands of excellent Mexican beer. And you might be surprised to find that there are many excellent Mexican wines which come mostly from the Baja California region. We have been asked about diet soft drinks in Mexico. They are available in most places (sometimes called "light" instead of "diet"), including in the hotel restaurants and the minibar in your room. However, the cost from the minibar is quite high, so you may want to buy some at a nearby supermarket and keep it in your room. Ice is available in your room 24 hours a day; just call housekeeping.
Health
Contrary to popular belief, it's safe to drink the water in major Mexican hotels and restaurants. But if you want bottled water, it's available everywhere either with gas ("con gas") or without gas ("sin gas"). For common travel ailments, there's almost always a pharmacy ("farmacia") on every block.
Internet
There will be high-speed Internet service available free of charge in the Emperatriz meeting room of the hotel, either using your own laptop or one of the computers in the VT Communications Internet Center at the back of the room. The hotel also has high-speed Internet connections in all guest rooms, but please note that there is a charge of USD 20 per day (from 12 noon to 12 noon) for using this service.
Language
Spanish, but especially in Mexico City you will find a lot of people who speak English, French and other languages. You should be able to get by in English without too much problem. Mexicans will be glad to practice their English with you, or to help you with your Spanish.
Media
The Mexico City AM and FM bands are full of a variety of music and talk, but there is little if anything in English. On shortwave, try Radio Educación (6185 kHz from 6 pm to 6 am) and Radio Mil (6010 kHz 24 hours a day), both in Spanish. Of course you'll find major international satellite TV stations in English and Spanish in the hotel. Mexico City has many daily newspapers, including one in English. You'll also find some foreign papers, like the Miami Herald.
Religion
Though there is complete freedom of religion, and you will find people of all faiths, the vast majority of Mexicans are Catholic, and their religion is very important to them. In every city throughout the country, there is a main plaza (called the "zocalo") with a Catholic church or cathedral. Many of these cathedrals are quite spectacular in terms of architecture and artwork, and you are very welcome to visit and take pictures.
Restaurants
The Hotel Marquis Reforma has several restaurants and a bar. If you turn left on the Paseo de la Reforma when exiting the hotel, you will find a coffee shop-type restaurant called Lily's about a block or two away. If you turn right when leaving the hotel, you will find a Sanborn's about two blocks away on the opposite side of the Reforma boulevard. Sanborn's is a department store, and it also has a coffee shop-type restaurant inside. There are many other nice restaurants with various types of cuisine in the Zona Rosa area and in the Polanco district. Both of these areas are within walking distance, or a short taxi ride, from the hotel. When you register on site, you will receive a booklet with maps and lists of restaurants and other area attractions.
Safety
Mexico City is the largest city in the world, and like any large city, there is always the possibility of petty crime. The standard precautions apply: don't carry large amounts of cash, don't wear flashy jewelry, and be aware of pickpockets in crowded areas such as the main plazas, metro stations, etc. We recommend NOT to hail taxis on the street (especially the green Volkswagen beetles), because of problems with robberies by unlicensed taxis. It is better to have someone at the hotel or store or wherever you are located call a taxi for you by telephone, and note the license plate number. Or use a taxi stand at a shopping center, for example. There are a lot of police patrolling the area of the hotel, along the Paseo de la Reforma and in the Zona Rosa, including the elite Tourist Police. Don't be afraid if you see a policeman carrying a machine gun. This is not a sign of a coup d'etat; it's just standard practice in many Latin American countries.
Shopping
Mexico is a paradise for shoppers. All kinds of exotic and beautiful handicrafts can be found for reasonable prices. The best place to find them is at the public marketplaces, where you can bargain a bit. (There is the Ciudadela in the Polanco district, and Insurgentes Market in the Zona Rosa, both near the Marquis Reforma Hotel.) Mexican leather shoes are of great quality and very reasonable prices, and there's usually a shoe store on every block. Some high-quality department stores can be found in the fashionable Zona Rosa (Pink Zone) just across Reforma Boulevard from the hotel. Sanborn's is a popular one, and it is only about two blocks from the hotel. Huge discount stores such as Gigante are located throughout the city and have excellent bargains. And there's even a controversial new Wal-Mart store being built just two kilometers from the Teotihuacan ruins. Mexico City has several large shopping malls. A visit to the largest -- Centro Santa Fe --is on the conference agenda.
Time
Everything seems to operate a bit more slowly in Mexico than in North America or Europe. People take life in stride and enjoy themselves. The best thing is to just "go with the flow." Even in bustling Mexico City, it is very common for people to take a siesta for two or three hours in the middle of the day -- and it may begin as late as 1400 hours or so. Stores and other businesses may be closed for a few hours during siesta time. Lunch is usually the main meal of the day, and it is served late, during the siesta period. Dinner can be served quite late (after 2100 is common), but it may be a lighter meal than lunch. Waiters in restaurants will almost never give you your check until you ask for it; giving it to you before you are ready to leave is considered rude. At the conference, our lunch hours will be artificially early for Mexico, and lunch will be a quicker affair, in order to leave maximum time for the coordination process. The time zone in Mexico City and Acapulco, by the way, will be UTC-6 at the time of the conference.
Tipping
Because of the relatively low wages and standard of living in Mexico, most people in the tourist industry expect tips from foreign tourists. In restaurants, a 10% tip is sufficient, but in hotel restaurants check the bill first; a 15% service charge may already be included. If bellmen help you with your luggage at the hotel, they will expect a tip of 1 or 2 USD per bag (10-20 pesos). It is customary, but not obligatory in most cases, to leave the hotel room attendants a tip. This is at your discretion; some luxury hotels suggest 3-4 USD per night. Taxis do not expect a tip unless the driver helps you with luggage, in which case 10% is sufficient.
Transportation
From the airport to the hotel, there are taxis with fixed prices. It will cost approximately 20 USD to get to downtown Mexico City. The Conference Committee will offer a personal pick-up service for about the same price. More details will be sent after you register. For getting around town, Mexico City has an excellent and cheap metro system, and taxis are quite inexpensive. We highly recommend NOT renting a car to drive around Mexico City; the traffic is horrible at all hours and all cars are restricted from operating in the metropolitan area on certain days to reduce congestion and pollution. If you are travelling outside of Mexico City, rental cars can be practical, but there are some very expensive toll roads (up to $50 or so). Luxury tourist buses are available to most parts of the country and are quite inexpensive.
Independent Travel and Tourism
As Mexico is a well-known tourist destination, we anticipate that many conference participants will want to spend some time touring before, during and/or after the conference. The Conference Committee personnel will be available at all times during the conference at the Registration Desk to arrange tours or to help people with independent travel arrangements. The Conference Committee will also be available to provide tourism suggestions and arrangements between now and the conference in February. Please contact Jeff White or Thais White by e-mail (radiomiami9(at)cs(dot)com), fax (+1-305-559-8186) or telephone (1-786-942-4205).
For detailed travel information about Mexico, please see: www.visitmexico.com. The website is available in English and Spanish.